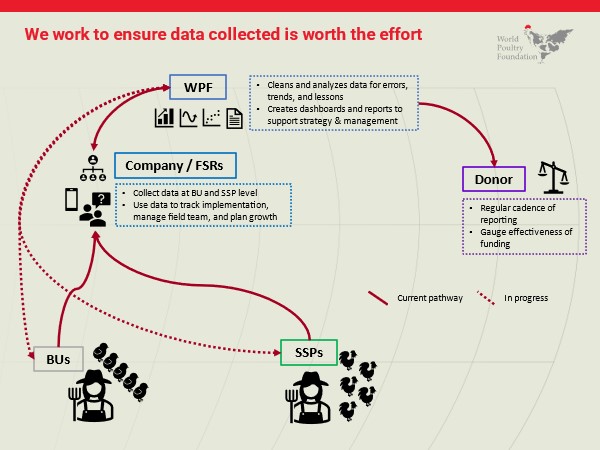 Getting a clear picture of what's happening in the field is a challenge: Who buys dual-purpose birds? Where are these farmers located? Are birds growing as we'd expect? What do farmers do with the eggs the birds lay? Are farmers earning profits? All important questions. All difficult to answer when your customers span hundreds of kilometers of rough terrain with little cell network reception.
Historically, each of our private company partners collected data and reported on activities independently. This approach was costly, inefficient, and frustrating – it was hard to compile information and share learnings across contexts, and it distracted companies from their main job which was producing high-quality chicks and feed and supporting farmers. Field data collection was seen more as a requirement of the 'donor' rather than embedded into the company's day-to-day operations. This meant data collection was viewed as a chore rather than a tool.
Over the last two years, we've been fine-tuning a data pipeline to solve these challenges. The goal was to design a system that automates the data collection, cleaning, and reporting processes so our partners can focus on using the insights from the data. We are thrilled with how far we've gotten, and thought we'd share a bit more about what we've done to get here.
First, we need to gather the data. We take advantage of visits that company technical support agents are already making to farmers (customers). On each visit, agents ask farmers a quick series of questions to track what is happening on the ground. Did any birds die? Did you buy feed? How many birds were sold and at what price? Did you spend money on additional labor? Did you eat any of the eggs laid? Using Dimagi's CommCare* platform, agents record the answers in the app and upload the data when they reach signal.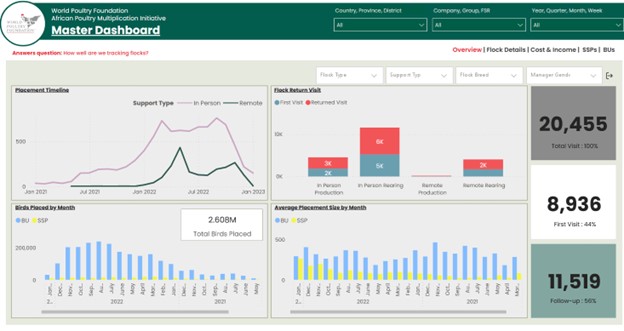 Next, we compile, clean, and populate dashboards. Using a combination of Microsoft Azure, Power BI, and other tools, data runs through a series of cleaning processes that we built with our partners at Oikoi. We then built cloud-based dashboards that update automatically every few hours with the latest activities from the field. Each company can access their dashboard with data filtered to their location.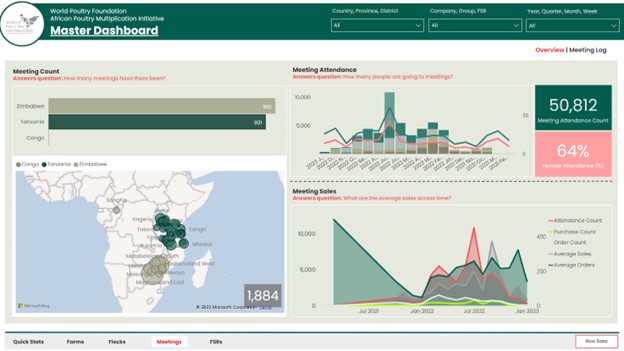 Finally, we use the insights. Our dashboards help us quickly highlight, for example, how dual-purpose chickens are thriving in the field, if farmers are growing their flocks and reducing mortality over time, and if we are reaching women and youth in rural, hard-to-get-to villages. We also built versions of these dashboards that our private company partners use to manage their clients and remote field staff. Our partners can add filters to quickly compare geographies or breeds. They can see if overall sales are growing over time, which areas are growing most quickly, as well as if certain farmers might need extra support.
What comes next? There is a saying: "what gets measured, gets managed." We would add to that, "…and then what gets managed, spurs more ideas to measure." If designing a system is Stage 1, Stage 2 is exploring the potential to do more with the data. Our current database houses data from 20k+ visits to farmers, tracking 3M+ birds over time from across nearly 12k flocks. We have a long list of additional analyses to continue learning from this information.
Beyond additional views of the data or rolling out the platform to new partners as we grow, we also have several ideas to ensure our platform remains a tool and not a chore for companies. We are exploring ways to integrate production forecasting so they can better meet the demand of their clients. We are also investigating how to integrate other company data sources to reduce any time spent re-entering data across systems. Finally, given interest from other stakeholders, we are exploring ways to offer the use of our platform to other companies working in the same space.
Perhaps most importantly, though, we are also brainstorming how we can best ensure the insights from this data make it back to the farmers themselves. How are my birds doing compared to my peers? Am I increasing my profits over time? Who raises birds nearby that might be a good teacher to help me improve?  Farmers spend time providing this data, so we are spending time ensuring it works for them too.
*CommCare is a cloud-based data collection application that works on any Android device, works well in rural areas with low bandwidth, provides off-line data collection capability, and supports translation into multiple languages.