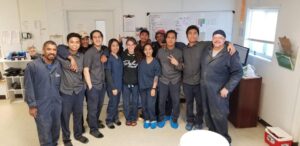 "Perfect," says Linda Manzini about his World Poultry Foundation-funded internship at Iowa Cage Free. "I liked how the systems are constructed; everything is done by machine. It makes the work day easy." Rotated around the farm's operations over the course of a year, from poultry man to egg processor to running a house of about 75,000 chickens, he "liked being a supervisor best of all" – checking production, record keeping, and reporting to management.
At the same time, Linda took delight and pride in some very hands-on work: training young chicks, in the dark of the night, to lay eggs into the collection system. "If the chicks are well trained, only about 500 eggs a day need to be picked up by hand from the floor. It greatly reduces the labor requirement."
Linda arrived at Iowa Cage Free well prepared for the internship, having worked previously for three years at two of South Africa's largest broiler and egg producers, and with a National Diploma in Animal Production from a Durban university. He also attended a World Poultry Foundation-funded poultry production course at the KwaZulu-Natal Poultry Institute shortly before departing for the U.S. in 2017. "It was very good, very practical," he said of the KZN PI training.
Iowa Cage Free interns enjoy volleyball and soccer in their free time. Linda especially looked forward twice a month to the two-hour drive down a very straight road for a day of shopping and the movies in Des Moines.
Back in South Africa now and applying for poultry farm management positions, he looks back fondly on his year in the U.S. Social highlights were celebrating American culture, especially Thanksgiving Day, the 4th of July, and picnics, where he socialized "with everyone." "Good people" says Linda of his bosses, co-workers, and Americans in general.
We wish you good luck in your job search, Linda!
The South African interns participate on a J-1 visa exchange visitor program sponsored by the WISE Foundation, a 501(c)3 non-profit organization based in Dyersburg, Tennessee.